Scorecard Features & Benefits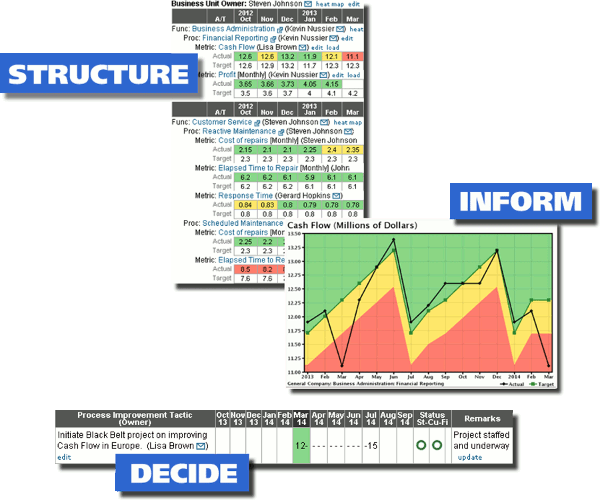 Your Structure, Your Information, Informed Decisions
PlanBase can be easily configured to reflect your organizations structure, entities, functions, processes, value streams etc. The cascading layers of scorecards ensure that your strategic and operational goals are visibly aligned across and down your organization. Then you can turn the data into information with just a few clicks on your PC, laptop, tablet or smartphone. You can see on-line, real-time updated metrics, corrective actions, line graphs and Pareto charts in a concise and consistent format. You can view at the highest levels of the organization or drill down through the connected layers to understand how the organization is achieving its goals.
Contact us to schedule a live demo. You can also view the Scorecard Video Demonstration.
---
Establish a Basis for Organizational Learning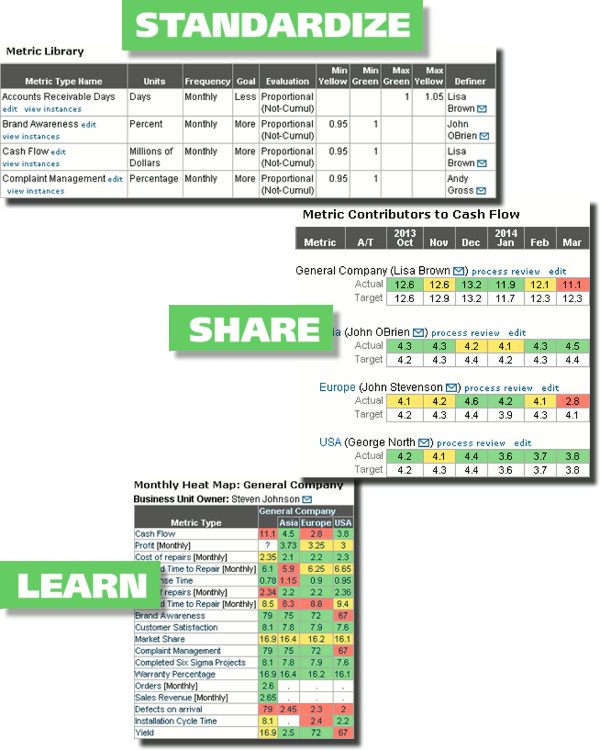 On-line up-to-date scorecards create awareness throughout the organization. People come together to improve the performance of metrics across a process or value stream. Metrics are standardized, stored and pulled from the Metric Library. This brings consistency to definitions, control limits and measured progress. The right metrics get utilized in the right places. The metrics are updated automatically, cascading through connected scorecards and across strategic initiatives. With an increased understanding of their contribution and impact, users share their successes across the organization and that organizational learning will sustain improvements.
Contact us to schedule a live demo. You can also view the Scorecard Video Demonstration.
---
Achieve Visible Improvement and Eliminate Duplicate Reporting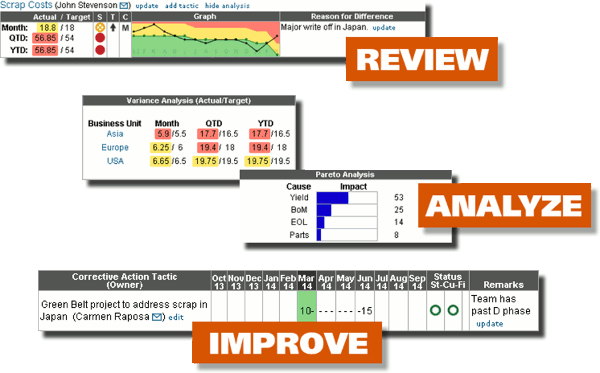 Progress and issues are clearly evident via the automated and intuitive traffic light system. Metric owners work with increased accountability to define and document corrective actions where issues surface. Best practices such as Pareto analysis, variance analysis and closed loop process management become the norm and drive performance improvement. A sense of consistency and completeness across the entity drives out duplicate reporting, extraneous spreadsheets and unnecessary slide decks. Misaligned or missing metric updates become a thing of the past as they are highlighted as gaps and quickly addressed by the owners.
Contact us to schedule a live demo. You can also view the Scorecard Video Demonstration.
---
Additional PlanBase Scorecard Features
Customized Metric Views

PlanBase Scorecard enables users to design their own dashboards with their personal KPI's front and center. Focus on what matters to your role by highlighting the metrics you own and can influence performance.

Connect Scorecards to Strategic Plans

PlanBase Scorecard, integrated seamlessly with PlanBase Hoshin, brings together operational metric management with strategic initiatives. Connecting corrective actions with the larger breakthrough goals helps to align the organization around a common objective.

Dynamic A3 Charts

PlanBase enables the creation of dynamic A3 charts that bring together all relevant information in the same place to stay informed on the improvement initiative. Metric performance, including history, across all levels of the organization paired with analysis tools and corrective action tracking neatly close the process improvement loop.

Load Metrics Data Automatically

Once you have all of your organization's KPI's in PlanBase Scorecard there is going to be a lot of data at your fingertips. PlanBase makes it easy to load data on a monthly cadence with Batch Data Loads, allowing you to focus on turning those red metrics green.

Sensitive Metrics Get Special Treatment

All organizations have those metrics that are sensitive in nature and shouldn't have public future targets. PlanBase supports this need through our "financial" metrics which have their own area and analysis tools such as AOP, ROFO, and Latest View.
Contact us today to check out even more features.