Finding Success with PlanBase
The PlanBase onboarding process is designed for organizations of all sizes and maturity levels to start the path to strategic planning success. Whether your organization currently uses spreadsheets, shared documents, or a competing platform that falls short of your needs, PlanBase can ensure a seamless transition to our intuitive platform on your schedule. Our teams of onboarding experts can meet your timeline of targeting a renewed focus on plan tracking and metric management next month or during your next annual planning cycle. The steps below provide a roadmap for the start of the PlanBase partnership.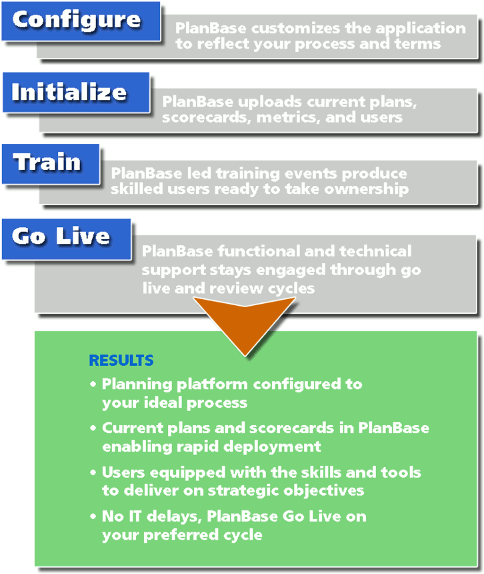 The PlanBase Roadmap enables your organization to find success for your current or upcoming planning cycle.
Contact us today to learn more about how straightforward starting your organization on a path to strategic planning success with PlanBase can be. You'll likely find yourself in agreement with many of our other customers in saying "After transitioning to PlanBase, I can't imagine doing it any other way".